Contact Us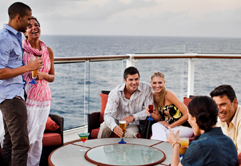 Remember that:
You and your group can raise substantial money for your charity.
It takes less time and effort to organize a Cruise for a Charity than a regular fundraiser.
The Detail Work is Done by Us:
We book the cabins
We answer all the questions that your group may have
We take care of your group's special requests
We set up special requests
We accept payment and deliver documents
We can arrange your airfare and transfers as well
You have a wonderful trip and then get the satisfaction that you have raised money for your Charity.
Don't delay,  contact us today. 
Contact Us for More Information and Details on How to Get Started!
Cruise For A Charity and Just Cruises, Inc.
145 Rue de Ville
Rochester, NY 14618

Rhonda Smith
Phone: 585.461.BOAT(2628) Ext. 218
Email us at: rsmith@cruiseforacharity.com