Testimonials
Memorial AME Zion Church Raised $1900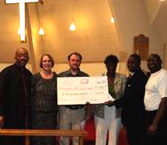 Alma Campbell from the Memorial AME Zion Church said, "Cruise For A Charity and Just Cruises, Inc. believe in the Golden Rule. They stand behind their product.  What the agency says it will do, indeed you can depend on. Everyone enjoyed the cruise!"
The church has been the home of Frederick Douglass, Harriet Tubman, and a stop over station for the Underground Railroad Movement.
A check to the Memorial AME Zion Church of Rochester for $1,900 was presented to the church for their fundraiser cruise aboard the Carnival Victory.
Cruise for a Cause has Helped us Raise More than $50,000
In a effort to do some good for kids in our community and have that effort connect back to our passion for cruising, we enlisted the help of Cruise For A Charity and Just Cruises, Inc. They helped us develop our program and they continue to supply ongoing support. We are now entering our 15th year of this philanthropic cruise and have raised well over $50,000 for various charities, including:
Golisano Children's Hospital at Strong
Hillside Children's Center
Camp Good Days & Special Times
St. Mary's Hospital/Unity Health Foundation
Central State University Alumni Raised $1550
Willard Brown Jr. with the CSU alumni group says, "Our cruise to SE Asia and China had the largest participation since our first cruise in 2000. The cruise was thoroughly enjoyed by all 59 passengers with some intending to return to our planned cruise to Egypt and The Aegean in 2011. Much of the success of this activity is attributed to the service and support provided by Cruise For A Charity and Just Cruises, Inc. a member of the DePrez Group of Travel Companies and in particular to Judy Day, our group's dedicated travel representative. We look forward to a continued association with Just Cruises, Inc. and their group of travel representatives for our future cruising destinations."
Mercy Flight Central Cruise Raised $1700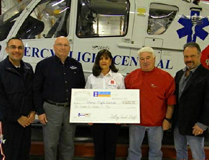 The DePrez Group of Travel Companies together with Royal Caribbean International were pleased to partner with Mercy Flight Central in hosting a benefit cruise that took place the week of January 16th 2011. A total of 33 people took advantage of this fantastic opportunity to relieve winter stress and successfully raise an incredible $1,700.00 for Mercy Flight Central.
Mercy Flight Central is a stand-alone not-for-profit air medical service which must rely heavily on donations and philanthropy. MFC operates 24-hours a day, 7-days a week providing emergency air medical transportation of both helicopter and fixed wing aircraft. The highly skilled critical care team includes a pilot, certified paramedic and registered nurse. Without community support, their mission would not be possible.
"This was a wonderful opportunity to vacation and at the same time support a worthy cause," said Scott Popowich, Flight Paramedic with Mercy Flight Central.
Medical Director for Mercy Flight Central, Dr. Chuck Cavallaro, also took part in this event. "The cruise was spectacular. Getting out of frigid upstate New York in January for warm Caribbean waters was an ideal plan. Convincing friends and family to come along was an added bonus which provided this great life-saving organization with well needed funding."
We would like to express our sincere thanks to DePrez Travel for their participation in coordinating this special fundraiser cruise on behalf of Mercy Flight Central.