Benefits of Cruising
Cruising has the highest satisfaction rate of any mode of vacationing. It is the perfect opportunity to visit multiple destinations without needing to pack and unpack your suitcases. This makes cruising attractive to an even larger audience.
Combine your fundraising goal with a chance to bond with members of your organization and strengthen relationships. The experience can be further enhanced with a themed cruise. Jazz, music, sports, mystery, crafting, cooking, wellness, religious and golf cruises are just some of the themes you can choose. It's just another way to have even more fun.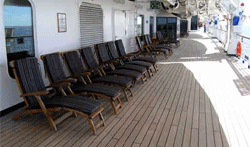 1. Value

Cruises offer great value for the vacationer because everything can be purchased in one package. The majority of both your needs and your group's needs, such as transportation, accommodations, all meals and snacks, entertainment and more are included in the price. Cruises not only serve as your hotel, but they transport you to various ports – eliminating the need for additional airline tickets. Cruises allow you to visit multiple destinations in the most affordable format available today. When you consider all the costs associated with a traditional vacation: airfare, transfers, hotel stays, entertainment, and meals into the cost, even a short trip can get expensive. Taking a cruise solves this problem by consolidating these costs into one all inclusive, affordable package.

2. All-In-One Vacation

There are not many other vacation options which offer the all-in-one experience like a cruise vacation. While on a cruise you can visit multiple destinations while not changing rooms and constantly packing and unpacking your luggage. After you embark the vessel and unpack, your biggest decisions are how to spend your time and what to eat for meals. On a cruise you are fed and entertained, and someone else cleans your room. A cruise vacation offers you the chance to enjoy your choice of several types of entertainment, which may include comedians, live bands, and other live acts. Then there are the dining options, all are located only steps away from your room. Most cruises also offer dancing, casinos, and additional entertainment. The ship also offers sunbathing, swimming, spas and other outside activities which can be enjoyed while traveling between destinations. When the ship docks, the ports are waiting to be explored, the markets are bursting with great discoveries and the local culture is ready to be sampled.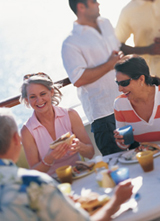 3. Dining

Most cruise ships hire top quality chefs and cooks for their kitchens. Many of these chefs studied at very prestigious culinary institutes and come highly recommended. Most ships offer a variety of cuisine options and several different restaurants with varying atmospheres. Menu options for every palette make the cruise experience great for families. Cruise ships offer a variety of choices from kid-friendly cuisine, to steak and seafood, additionally you will often find Italian or Asian fare as well.

4. A Good Group Vacation Option

Cruises offer options for groups to stay together while enjoying separate vacations. Groups of all types find that cruise ships are the easiest and most enjoyable way to travel together, it is the perfect opportunity to support your cause and build stronger relationships. Onboard a modern megaship, your group can dine together in a gourmet restaurant, meet in a quiet conference room, gather by the pool for sun and fun, or experience a Broadway show. Group members who want to break away from the action can retreat to the spa, find privacy on a secluded balcony, or enjoy a book in a comfortable alcove. With a cruise everyone can go their own way and then come together for meals and events as they wish. You will experience the best of everything and enjoy your vacation while raising money for your organization. The joy of giving is a wonderful feeling.

5. Pampering

Since relaxation and rejuvenation are often the ultimate goals of any vacation, the pampering options onboard a cruise ship make it an easy choice for the weary traveler. Massage, sunbathing, free childcare, spa treatments, and hot tubs are just a sample of the options that can be expected on a cruise ship.

Many groups choose cruises for their vacations because of the value, food, pampering, and group friendly atmosphere. Simplicity, countless options and new experiences also rank high on the list of reasons for choosing a cruise vacation. No matter the reason for choosing one, a cruise is a great value, offering relaxation and fun in a group-friendly atmosphere with good food and entertainment all in one unique location.
Contact Us for More Information
Rhonda Smith
Phone: 585.461.BOAT(2628) Ext. 218
Email us at: rsmith@cruiseforacharity.com